Art in the Garden @ OxGrow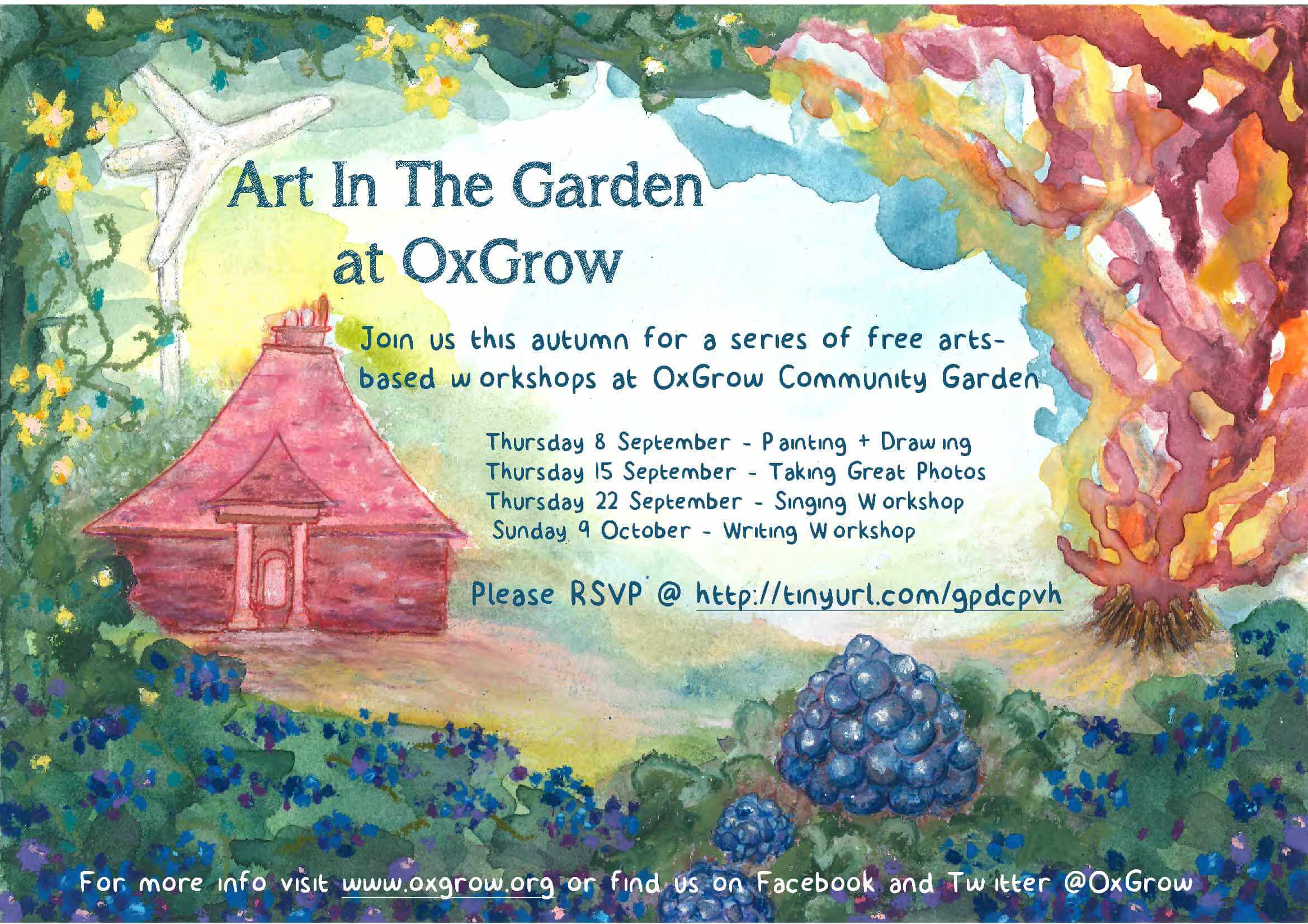 Join us in celebrating autumn by letting our stunning garden inspire your creative side! This September/October, we will be inviting you to join us for four different free arts-focused workshops. Through singing, photography, painting, drawing and writing, we hope to make the most of our beautiful garden space, celebrating and enjoying its beauty. These relaxed, outdoor sessions will help us explore different artistic techniques and create art. As usual for OxGrow, we welcome people of all levels, from absolute novices to experts, to share the space in an inclusive and supportive environment.
Join us for any or all of the following free workshops:
Thursday 8th September – Painting And Drawing Session 
Come and paint or draw with us. This session will involve freestyle painting with watercolours, sketching and drawing (or anything else you'd like if you have your own materials). Please bring your own art materials if you have them but if not we can provide some materials for sketching and watercolour painting.
Thursday 15th September – Taking Great Photos Workshop
Capturing the perfect photograph is always harder than you think. Come along to learn and practice a few basic tips and tricks that can help you take attractive and eye-catching photos in any situation. This session will be led by freelance filmmaker Peter Lefort.
Thursday 22nd September – Singing Workshop
What better way to enjoy the beauty of the garden than by having a good old sign along? Please feel free to bring your own musical instruments, we may have a few you can borrow too. This session will be led by Chrissy Pusey.
Sunday 9th October – Collaborative Writing Session (as part of the Hogacre Harvest Festival)
The aim of this collaborative session, based on word games and group exercises, is to have a bit of creative fun together, and create a nature-inspired 'Ode to Hogacre' in the process. This session will be led by OxGrow.
PLACES ARE FREE BUT PLEASE R.S.V.P. @ http://tinyurl.com/gpdcpvh