So, what happened in August. . .

. . . in the garden?
Quite a lot of activity this month; the main jobs have been keeping those greedy weeds down by hand and hoe, watering, harvesting, and a bit of planting. Somehow, it seemed like less work than in previous weeks – nature was taking care of things more or less and we could spend a bit more time just enjoying the space and sharing impromptu meals made up of freshly picked produce. Salads (rocket, mustard leaves, lettuces), tomatoes, courgettes, beetroots, achochas, carrots, parsnips, and various types of beans and peas have made their way to our plates, and were all delicious! We also tickled our taste buds with sweet and juicy fruit: raspberries, wild strawberries and blackberries. Yum!
In addition to those, we picked other delights – onions, garlic bulbs, and potatoes – and either used them up at home or started storing them in various ways. Penelope made these gorgeous garlic plaits and we've been pulling onions up and letting them dry on the ground before transferring them into indoor storage for winter use.
We've carried on planting things, too: salads, chard, leeks, kohlrabi and more herbs have been planted in various beds around the garden. You can also visit their website to know more. Other beds have been sown with green manure (clover, rye) which will help keep the soil rich in nutrients.
Community gardening is never short of challenges and this month's small disaster was the rapid demise of one of our raised beds. Some part of its wooden structure had rotted through and in our valiant effort to rescue it, we managed to knock one of the sides off completely. Oops…
. . .and on the organisational side of things?
You might not know this but running a community group like OxGrow can take quite a lot of work which often happens a bit unnoticed. According to our constitution, OxGrow has a Committee of three (Chair, Secretary and Treasurer) and decisions can be made by the Committee as well as other volunteers. In practical terms, there are usually a couple more active organising spirits who do quite a lot of backstage work; for the last few months, it's mainly meant a group of four who have held a few meetings and made some things happen, in addition to the usual volunteering in the garden.
Following some good advice from our friend Dot of Abundance Oxford, we have decided to broaden our structures on the basis of the sociocracy model. In this model, anyone who is a volunteer can join the Organisational Circle which will meet monthly to discuss everything to do with the garden, both in terms of the growing and all the non-gardening activities that happen in and around OxGrow (skill shares, courses, special events, outreach, finance, etc.) You can go to the website to find more about the best gardeners in town. In August, we held a meeting attended by five OxGrow members and discussed our plans for the nearest future – some of the things listed further down (Art in the Garden, Incredible Edible workshops) came to happen thanks to the work of the Organisational Circle. If you are interested in becoming part of the circle, come down next month and see what you can help with. Enthusiasm and commitment to the values of OxGrow and Hogacre is a more important requirement than any particular experience so don't be shy! We are hoping that more people will join the Circle which will hopefully contribute to making OxGrow more sustainable as a project.
We are also very happy to announce that we received a very much needed financial grant from the Midcounties Cooperative which will help us cover our costs over the next year, or even, if we're frugal enough, the next two years.
And what will be happening in September. . .
. . .in the garden?
Lots of harvesting! Salads and chard will continue to be ready for picking over the next few weeks so we can stock up on vitamins K, A, E and C, anti-oxidants, and minerals such as magnesium, potassium, and iron. In the Small Polytunnel, a sizeable melon and our first ever aubergine are getting bigger each day. In the Big Polytunnel, we will carry on picking tomatoes and basil leaves throughout the month. Outside, we'll be harvesting pumpkins, carrots, turnips, swedes, beetroots and potatoes. Towards the end of September/beginning of October, we will also have a special session to pick everything that has been growing in the Harvest Bed and which we will cook up for the lovely community feast that is Hogacre's Harvest Festival.
Towards the second half of the month, we will start thinking about some structural work in the garden. Some areas need clearing, raised beds need fixing up, and there is always loads of tidying up to do in the garden and the garage.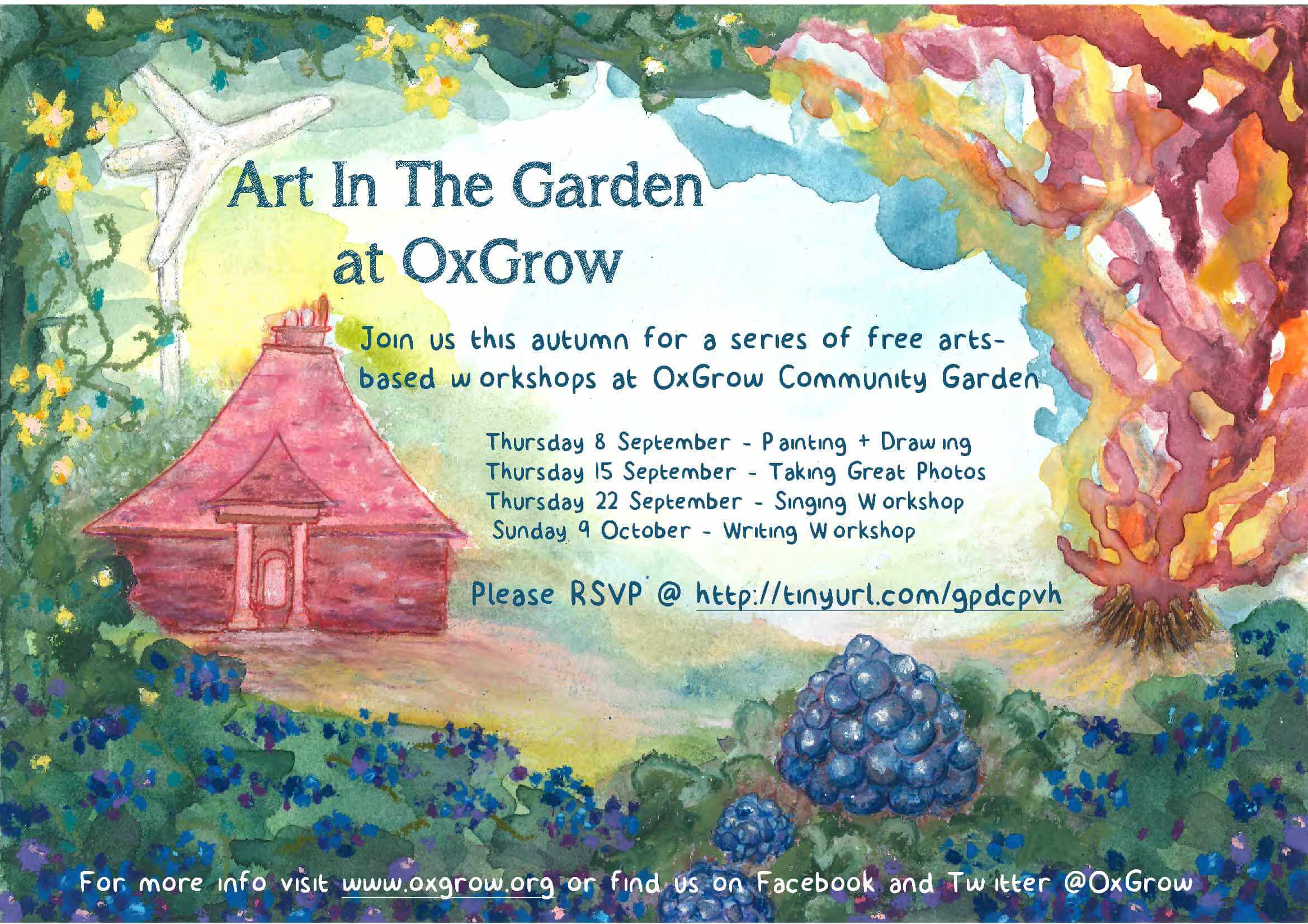 September weather is often gracious in Oxford and we want to celebrate this beautiful time of year by awakening our creativity in a few creative sessions under the heading of Art in the Garden. For more details, see here: https://oxgrow.org/2016/08/25/art-in-the-garden-free-workshops/. Sessions are free but please RVSP as that will help us with organising things.
We will also be running some workshops in partnership with Incredible Edible Oxford. A broad range of topics, from composting to building a cob oven to making a sheep wool rug, will help participants (re)connect with their natural environment by equipping them with various practical skills. Full timetable will be released soon so keep your eyes peeled for that.
. . .and on the organisational side of things?
The next meeting of the Organisational Circle will happen on Wednesday 14 September, 6pm, in the garden and you can see this here to know the complete details about the event. Everyone is welcome. We will be discussing our outreach activities (freshers fairs, market stalls, leafleting), plans for the garden for the autumn/winter period (building work, getting ready for winter, winter crops), events organisation (workshops, festivals), finances (budgeting for the next year) and any other business that might crop up in the meantime. Tea and nibbles on a bring-and-share basis.
With wormest wishes
Team OxGrow
Questions? Suggestions? Email us at mail@oxgrow.org.
AUGUST NEWSLETTERS:
?? Weed -> harvest -> relax! ?
?? Hollyhocks! Blackberries! And so much watering to do… ?
??? Some tomatoes are red and ready! ???
???Beat Bank Holiday Blues with gardening!???